The SCR Mid-year Meeting will take place on Saturday, Feb. 21, 2015 at 10 a.m.
Embassy Suites Dallas
13131 N. Central Expressway
Dallas, TX 75243
972.234.3300
Several items of business will be discussed during the morning meeting, including the election of your new officers. The SCR Nominating Committee presents the following slate of individuals to serve as SCR officers for the 2015-2017 term:
Region Director: Dr. Linda Ann Walker
Assistant Region Director: Shawn Mille
Treasurer: Sandra Harwell
Secretary: Marian Hoffman
Education: Karen Heller
As a special treat, the Region is sponsoring a workshop at 2 p.m. following the meeting. Former SCR RD Donna Hagaman will teach a beaded tennis bracelet at the workshop. The kit cost is just $10 and the workshop is open to all SCR members. To register, email zhmk31@gmail.com.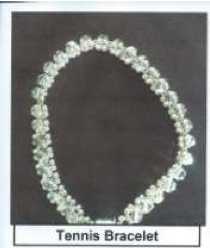 The bracelet features seed beads and Swarovski crystals, with a swivel lobster claw clasp.