We are planning a road trip to the Schoolgirls Sampler Exhibit at the Pioneer Museum in Fredericksburg on Saturday, June 11, 2016. We will meet at the Park & Ride under IH10 and 1604 at 9:00 am. The museum opens at 10:00 am. We will probably stay 2 hours at the museum.
Please let me know by phone 210-422-4770 or email at jjvandy@peoplepc.com if you are interested. We can all car pool and have a caravan on the way to Fredericksburg.
-Joan Vanderbrink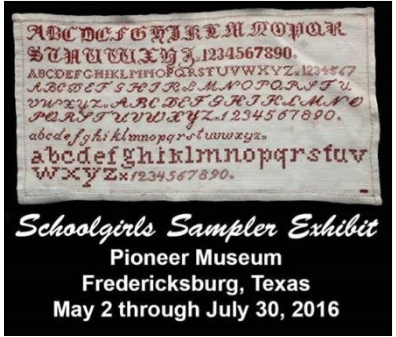 Over 40 historic and contemporary schoolgirls samplers, thought only to provide girls a practical household skill, are viewed with modern research notes on their educational value in writing, reading, math, art, and geography in early American country schools.
This Exhibit is co-hosted by Pioneer Museum and Friends of Gillespie County Country School to support the National Country School Association of America Conference theme: "On the Land—Learning at Hand" at the Pioneer Museum in Fredericksburg, TX.
See www.CountrySchoolAssociation.org for more information.