SCR Seminar 2014 in Baton Rouge was a smashing success! And SANG definitely made its presence known. Tawney Carter and Pat Goaley were the only two entries in the EGA Seminar 2015 logo contest.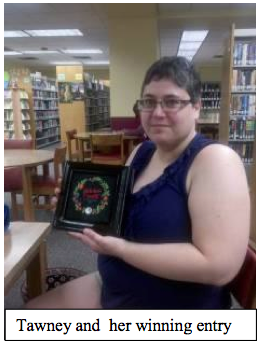 Seminar participants were asked to vote for the entry of their choice without knowing who stitched the entries. It was a very close vote, but Tawney was the winner. In addition to having her entry become the cover of the seminar brochure that will come out next spring, she also got a nice crisp $100 bill. Pat was recognized for her recent completion of not one but two Master Craftsman programs, Surface Embroidery and Crewel Embroidery. And a standing ovation goes to Marilyn Veach, one of five winners of the Heart in Hand Award.
Some very important business was conducted at the annual meeting. The budget for 2015 was approved. The nominating committee of Joy Cobb, Lois Albert, and Sandy Crow was formed. These ladies will be working over the next few months to put together a slate of officers for the term 2015-2017. If you have any interest in working at the region level, now is the time to step up.
I'll be happy to put you in contact with one of these ladies. (I can tell you from experience, working at the region level is very rewarding and fun, too.) Updates to the region standing rules and policies and procedures were presented and approved. Chapters were reminded that all SCR chapter bylaws must be renewed by 2016.
Registration began for SCR Seminar 2015 in Lubbock, TX. Classes will be one or two-days in duration. Because physical space is limited, attendance will be limited to 150. While the event may be shorter, the classes are still the high caliber you expect from an SCR seminar. All the classes have already reached minimum enrollment; but there are still spaces left. All the information you need can be found athttp://scrseminar2015.org/index.html.
Joyce McCoig
Region Representative