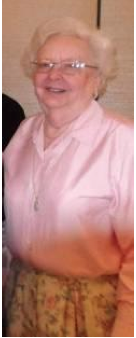 The San Antonio Needlework Guild was excited to nominate Marilyn Veach for the 2014 Heart and Hand Award — we were even more excited when she won:)
What does it take to make a Heart and Hand winner? Add nearly 40 years of membership, a couple of terms as Program Chairman, artistry in needlework, mix in a willingness to help one and all and a dash of can-do attitude.
Here's an excerpt from Marilyn's nomination:
Marilyn stitched Seeing Stars II, an Alice Landon companion piece to Seeing Stars. After Alice taught Seeing Stars at EGA's national seminar in 1997, Alice taught the project for our chapter in 1998. She showed us a companion piece that she planned to offer for the EGA National Seminar the following year. Alice was not able to submit the piece due to medical problems. Because she wanted someone to chart and produce instructions for her creation, Alice gave us her notes and a list of the issues of Counted Thread magazine that she used to design the motifs for the project she called Seeing Stars II. With the help of photographs of Alice's stitched piece, her notes and a stack of Counted Thread magazines collected using Alice's list, a pattern for the sampler emerged. Marilyn was the driving force in this endeavor from the beginning. With the assistance of other SANG members, she coordinated the collection of the reference materials, selected the colors, and made sure the final product was a true depiction of Alice's original. Then she spent several months stitching the piece. The project was a challenge because she had only a few photographs, some handwritten notes, and a list of magazine issues to guide her in reinventing Alice Landon's beautiful sampler. Alice may be gone, but her talent lives on with the help of people like Marilyn Veach…Marilyn is well versed in many types of needlework and has taught many classes for SANG… She is the go to person to teach programs at chapter meetings and mini- workshops.