I have been watching quite a bit of Floss Tube lately. If you have never heard of Floss Tube it is an on-line community of stitchers that video blogs their stitching journeys on You Tube. As I was watching one such video I was impressed with one lady. Her stitching plans for the year seem to revolve around the all of the SALS (Stitch-A-Longs) that she has joined. She seemed to be in one every two weeks or so. What impressed me the most what how she organized it all in a journal.
First she typed up all of the SALS that she signed up to participate in for this year and next then pasted it into the front two pages of her journal. Her list consists of a Start checkbox, Done checkbox, SAL start date and SAL name. It looks a little like the example below which is based on the SALS offered by the bulletin board I belong to:

Next she created a template card with all of the information that she want to keep track of for each project and printed blanks so that she can paste the projects into her notebook . It looks some think like this: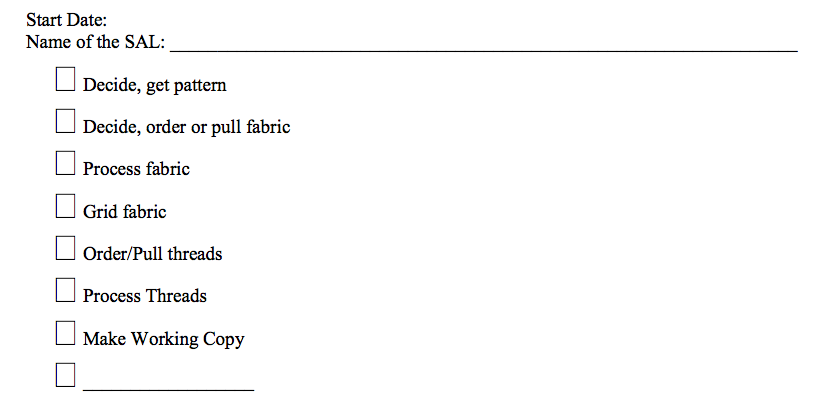 This got me thinking. I have a stitching journal but for me it seems to be a catch all/shopping list. I use it to document if I have everything that I need to start a project. I use it to document thread changes I might want to make or audition the next time I go shopping at my local needlework store. Other things that I would want to keep track of: Name and thread count of fabric used. The number of floss stands I used. Is the piece stitched over 1 or over 2? Start Date and completion date. Comments about a piece. Do you have a stitching journal? If so, how do you use it?
by Jessica Jones