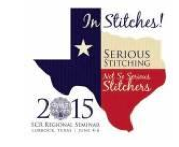 Our Lubbock Seminar is off and running! Registration is going well; all classes have their minimum, and all still have room for more. So send in your registration right away!
All Region Day activities (underwritten by SCR) are included in your $5 ticket. You will be treated to a luncheon with Lynn Haney, designer of Lynn Haney Santas, then a Hop-On-Hop-Off CitiBus tour to
our favorite places in Lubbock, including:
 POCKET FULL OF STITCHES (for beautiful needlework items).
 The Museum of Texas Tech, featuring the EGA 2014 National Exhibit and several embroidery-related exhibits, including an exhibit from the West Texas Chapter.
  Lynn Haney Collection and Hollyhocks (their wonderful adjacent gift shop).
  Snippets Store (for quilting and scrapbooking).
  Any other interesting shops that might pop up between now and then.

In addition, each full registration attendee at the 2015 Seminar will receive a coupon good for a $50 rebate on full registration for the 2015 National Seminar in San Antonio! Now, that's a GREAT deal! Additional information can be found at the website: http://www.scrseminar2015.org