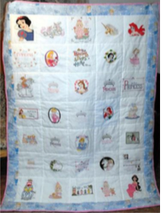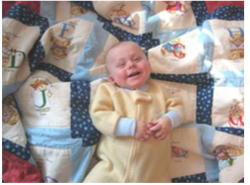 We invite SANG Stitchers to change the world…one child at a time.
I am incredibly excited to announce our major community outreach project for this year: once again we will be stitching in support of Love Quilts USA. Love Quilts USA is taking on the mission started by Love Quilts (the organization we supported the last time we stitched quilt squares as our outreach project) … making quilts for sick children using cross-stitched squares donated by stitchers around the world. If you go to their website (http://www.lovequiltsusa.com/), you can sign up to donate for a specific child (each child gets to pick their theme) and will have a deadline to send the square to Love Quilts. They also need "Any Child" squares that they can use to fill out a quilt that didn't get enough donated squares, or to make emergency quilts for children who (for whatever reason) may not be able to wait for a specific themed quilt.
We are asking our SANG stitchers to make "Any Child" squares. The pattern choice will be yours – try and pick a pattern that fits into the types of themes they currently use:
1) Realistic dogs, sports and superheroes for boys
or
2) Flowers and/or insects, inspirational words or phrases, and princess stuff for girls.
In order for the squares to blend, you must adhere to the following guidelines when stitching your squares:
Fabric: WHITE AIDA cloth (I can't stress the white enough, NO ecru)
Count Size: 11, 14, 16 or 18 count AIDA (NO linen please)
Outside Dimensions: 13×13 inches, PLEASE make sure it isn't less than 12×12 inches. If your fabric is 12×18 in. please cut the 18 to 13 inches, which is fine.
Inside Dimensions: between 9×9 inches and 5×5 inches for design. If your pattern ends up being 3×3 inches or less (design area), please put a border around it. Patterns cannot exceed 9×9 inches.
Stitches: Please do not stitch the child's name on your square. Please, NO LONG STITCHES on your square anywhere (including your signature). These tend to get caught when the quilt is being put together.
I am sure that the child who is snuggling with the quilt finds the same thing. Please use all the holes available even when making things such as cat's whiskers for example. Do not use charms or beads or other sewn-on embellishments. Besides being a choking hazard for young children, they can catch on other parts of the quilt during washing and cause damage.
Signing Work: Please sign your work when you are finished. The children and their families just love to see where the squares have come from. Please do not stitch a date into the square. This helps when the squares are used at a later date for a child who receives a quilt urgently because of health reasons. Please sign your name (first name is fine) and location (city, state and country is fine or just the state and country if you are more comfortable with that) stitching it on the bottom close to the finished pattern. Please make the thread color dark enough so it can be seen. Try to match a color in the pattern if possible, otherwise use black.
Care: If you feel comfortable washing and drying your square, please feel free to do so. The squares need to be forced dried by an iron. Just after washing, while the square is still wet, slowly iron with a moderately hot iron until dry. Iron the back side of the square, not the front. Put WASHED on the insert you place with your square with your name and email address. If you are not comfortable washing your square Love Quilts USA will wash it for you. Please put NOT WASHED on your insert.
Please bring your finished squares to any SANG meeting, class, or stitch-in throughout the year. I'll be gathering them and will take care of mailing them on to Love Quilts USA after our November program. If you prefer, you could mail the squares to me, or mail them to Love Quilts USA directly – if you chose to send the squares yourself, please drop me an email to let me know that you donated a square — I'd love to keep a running total of all we do.
Mary Hodges
Community Outreach Chairman deltagal@prodigy.net