We invite SANG Stitchers to change the world
…one child at a time.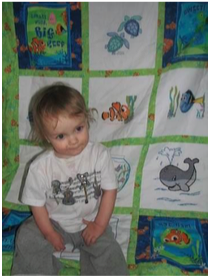 Full details are in the February or March issues of the SANG newsletter — to recap:
We are asking our SANG stitchers to make "Any Child" squares in support of Love Quilts USA. The pattern choice will be yours – try and pick a pattern that fits  into the types of themes they currently use:
1) Realistic dogs, sports and superheroes for boys
2) Flowers and/or insects, inspirational words or phrases, and princess stuff for girls.
In order for the squares to blend, you must adhere to the following guidelines when stitching your squares:
Fabric: WHITE AIDA cloth (I can't stress the white enough, NO ecru)
Count Size: 11, 14, 16 or 18 count AIDA (NO linen please)
Outside Dimensions: 13×13 inches, PLEASE make sure it isn't less than 12×12 inches. If your fabric is 12×18 in. please cut the 18 to 13 inches, which is fine.
Inside Dimensions: between 9×9 inches and 5×5 inches for design. If your pattern ends up being 3×3 inches or less (design area), please put a border around it. Patterns cannot exceed 9×9 inches.
It has been great watching all of the squares that our members have been working on during stitch-ins! So far, one overachiever has already given me her completed square — so cute! Please bring your finished squares to any SANG meeting, class, or stitch-in throughout the year. I'll be gathering them and will take care of mailing them on to Love Quilts USA after our November program. If you prefer, you could mail the squares to me, or mail them to Love Quilts USA directly – if you chose to send the squares yourself, please drop me an email to let me know that you donated a square — I'd love to keep a running total of all we do.
Mary Hodges
Community Outreach Chairman deltagal@prodigy.net